up late one night looking for carpets...I'm kinda odd in the things I collect. I adore coats, hats, carpets, aprons..... yep odd!
I was looking for area rugs that were eco friendly... I saw the picture in the listing for this carpet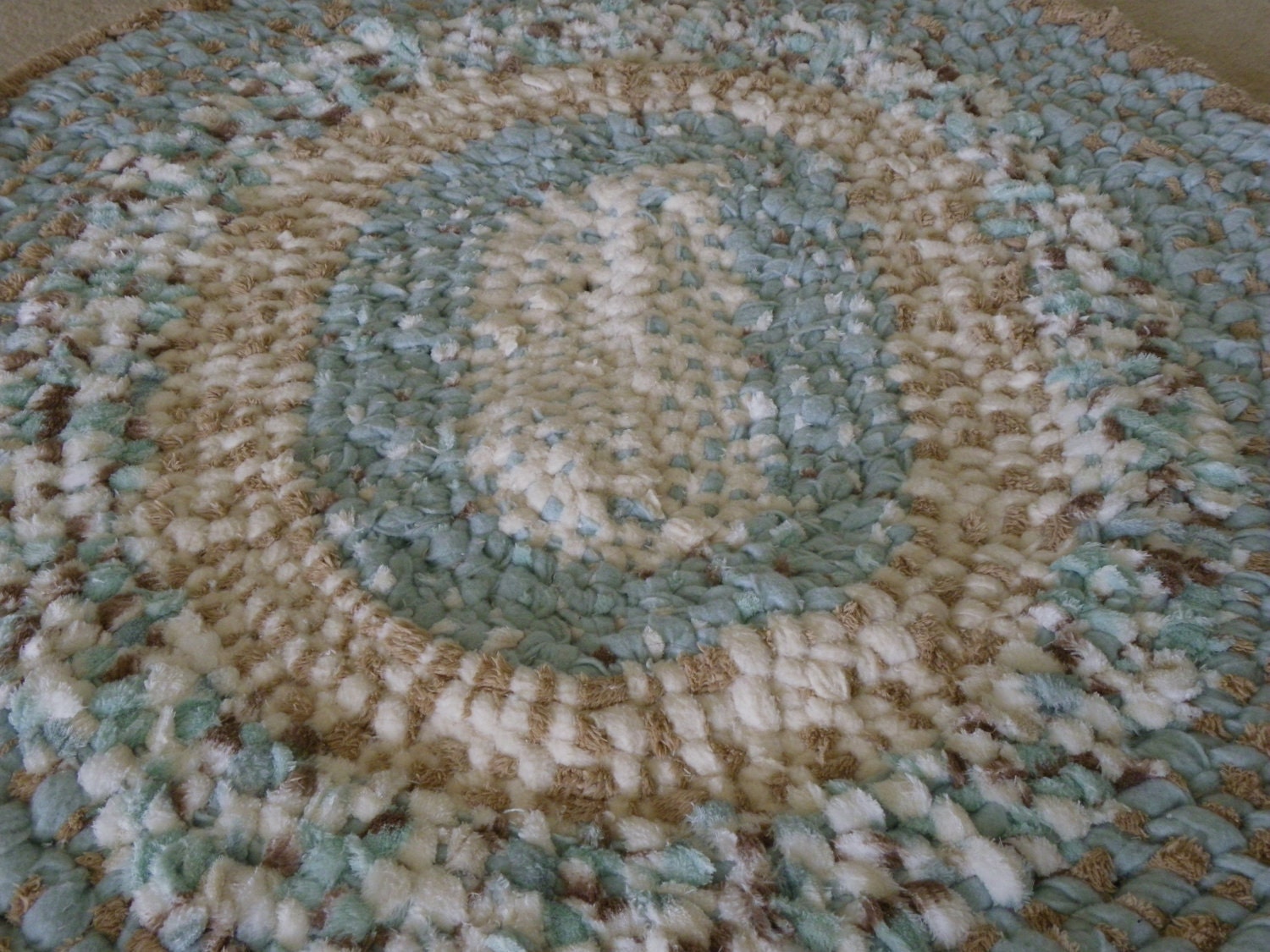 pretty huh? It's hard to tell from a picture what a rug will really look like and feel like, but you can tell this is thick. I am into primitive, shabby chic, cottage type stuff! This carpet was perfect color wise. and wasn't perfect fancy shmancy looking (like our comfy cozy home) I contacted robin, who, I have to say is about the sweetest most accommodating seller EVER! we set up the listing and I waited....waited.....waited... but not long.
In about a week or so it came and like a kid at Christmas I wasted no time in ripping the box apart to find the softest most luscious carpet.....I had contacted Robin about it not laying flat, she offered a few tips and it worked.
This carpet love to be thrown in the washer and dryer, giver a good yank in all directions and used. it's been in the bathroom where it DRINKS water off the kids after the bath, now it lives in our master bedroom at the foot of the bed...it has a special home under our dog. Because it's so think (LITERALLY over an inch think) and cozy and lush, Co-jack has deemed it worthy of comforting his old arthritic bones.
I came home the other day and Co-jack cam down the hall and stretched in the odd way big dogs do...I walked into the bedroom and felt the carpet and it was so warm I know he was there for hours.
Although never intended to be a dog mat.....it's a beautiful carpet after all....we kind of think in our house if it's good enough for the dog it MUST be ok for us too
Please visit robins store right
here
she sells all kinds of cute stuff and amazing pictures. She was amazing to deal with and honestly concerned when I had a few issues with the carpet. She is honestly simply happy to know someone will enjoy her stuff and give it a good home. It's obvious she's passionate about what she does....and you can tell!