I always try to stay positive so I will start there
Got an amazing deal on a handmade quilt at
sinclaieville
. I love it. It's so perfect! I have always had a soft spot for quilts...the amount of time and work that goes into it amazes me. This quilt was perfect. A mix of purples and greens with a few pops of pattern. Also I liked that it was backed in black, I find it adds a modern touch.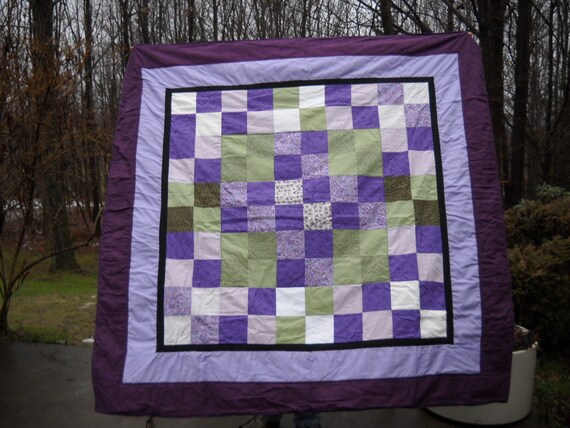 I was shocked when this quilt had been marked down to 35$. It wa over I had to have it. It came smartly wrapped in a clean garbage bag in a great well wrapped box. It did'nt take too long, and after a handwash and line dry it has'nt left the couch yet! In our house we are big cuddlers....our new couch we bought when we moved is a huge oversized blue faux suede with room for 4 to stretch right out. We often lay all over the couch in pj's falling in and out of naps cozy under handmade blankets and quilts, watching reruns of looney tunes with the boy. It's a wonderful way to spend the weekend. I would suggest everyone check out
sinclaieville - gifts from a quilters heart
They do still have quilts at amazing prices and also sale ones too. But most of all Tami is an amazing seller, the love she has for what she does shines thru. I would buy here again anytime my budget allows.
The bad
The boy has bronchitis ICK so shipments are slightly delayed as he is home with me from school. Oddly it has'nt dulled his loudness or obsession for video games.....but I am glad to be able to baby him for a bit. Now that he is 5 he does'nt seem to need me so much (not at all if you'd asked him) His teeth are loose, he picks his own outfits......and breaks mommy's heart with his sudden burst of lippy comments! As much as I miss my baby boy I am also amazed by my little man daily. This picture is from his christmas concert!